IEHD
About IEHD
The Ochanomizu University Institute for Education and Human Development (IEHD) was founded in 2016 – to establish an international research center devoted to the study of education and human development.
Bringing knowledge from basic, practical, and clinical studies, we disseminate research results and inform public policy. Our mission is to conduct research that close children's educational and social gaps, to contribute to the process of making public policies that reform Japan's low birth rate both in quality and quantity, and improve children's development from infancy to adulthood and beyond.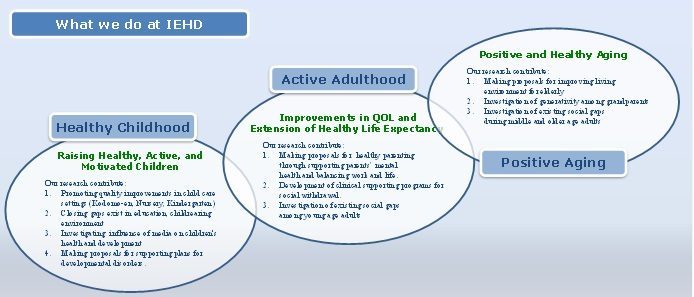 Organization
Childcare and Education Research Division
We conduct research on:
experimental education methods such as active learning
systems and curriculum that help educational continuity through kindergarten to university be effective.
studies on quality of childcare and curriculum research in the Center for Early Childhood Education and Care (KODOMO- EN) and refresher courses for practicing childcare workers.
Human Development Research Division
Basic Research on Human Development Unit
We conduct:
follow-up studies to investigate short- and long-term effects of childhood environmental factors (e.g. socioeconomic status, family relationship, media) on children's development and quality of life.
basic research on psychological and physical health, as well as on development during adolescence (e.g. health behaviors).
Educational Social Gaps Research Unit
We conduct research on:
follow-up studies on gaps in childcare and education and its effects on children's development.
international comparative studies of Asian and African countries.
We address issues of effects of social gap on lifespan development and offer recommendations to close children's educational and social gap.
Developmental Clinical Research Divison
Research on Support for Developmental Disorders Unit
We conduct:
research on support for children and adolescents with developmental disorders (e.g. autistic spectrum, attention attention-deficit/hyperactivity disorder(ADHD)).
development of support program implemented at schools and communities.
How we disseminate our research results
Most of our research results will be published in academic journals and books. We contribute policy making process through active dissemination of our research results, including flyers and books for general interest. We publish press releases featuring published journal articles, books, and annual reports. Our institute holds annual symposiums presenting research results. We plan seminars and lectures not only for professionals and practicing teachers, but also for the public, instructed by members of the institute.
People
Director
Faculty
Members
Collaborative Researchers
Yuki Yamagishi
Sera Muto
Ryosuke Okada
Arisa Yoshiuchi
Mizuho Otsuka
Akira Kugaya
Makiko Sugiura
Tomoko Nakazawa
Kimie Uchino
Office Staffs
Adviser
Specially Appointed Researcher
Visiting Professor
Visiting Researchers
Research Support Members
Tomoko Kikuchi
Shoko Shimada
Motoko Matsuura
Yuko Yamamiya